Advanced Canine Techniques
Does your dog:
bolt out the front door?
not come when called?
bark at people and dogs walking by?
lunge and pull on the leash?
jump on people, furniture and counters?
bark and whine incessantly?
play keep away with possessions?
Now Imagine your dog
coming when called each and every time…
waiting at all entryways before going out the door…
sitting quietly and  calmly as people and dogs walk by…
taking a nice leisurely walk in the park…
staying on a placeboard or getting on the furniture with permission…
greeting people with all 4 feet on the floor…
dropping items on cue…
This image is REAL! Your dog can do all of these things. With practice, patience, persistence, praise we can help you accomplish all of these goals for your dog. We want you to have a dog you can be proud of. Call us today to make your dream into a reality!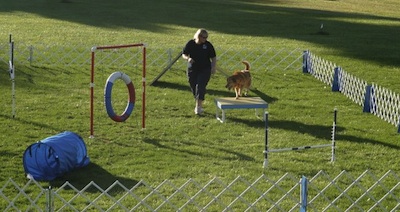 Here is what a few of our clients have to say…
"Thank you so much Bonnie for all the positive reinforcement and encouragement. We found the glass window that goes to the door Sheba goes through. I just used the technique you sent me about waiting and she did it twice in a row to go outside.  Yay!  Thanks again."
~ Amanda Kilmer, Muncie
"Hi Bonnie, just wanted you to know I took Beanie for a walk this evening in our neighborhood (where she knows where every dog lives, lol) and the difference was remarkable. I didn't have to use a forceful correction at all & she hardly reacted to the dogs. Just a little whining when we passed by-I am thrilled! Thank you for your help.we will keep working on it!"
~Valeri Griffith, Muncie